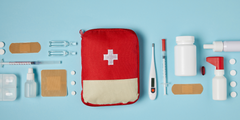 First Aid is the assistance given to an injured or sick person in need of urgent medical assistance. First Aid applies to a broad range of medical situations and consists both of specific knowledge and skills (for example, what to do for each type of injury or illness) and the ability to assess a situation and make appropriate decisions (such as when to call for emergency medical assistance).
Wherever you work, if an accident happens in your workplace, you don't want to become a helpless witness. That's why it's crucial to have at least a basic knowledge of First Aid and have access to essential first aid supplies to deal with any potential accidents in a controlled and measured manner.
First aid supplies are a must-have for every home, school, and office. They are simply a necessity for those out-of-the-blue ailments and injuries as well as more serious injuries so you can help reduce the risk of infection as well as the severity of the injury itself.
Nickel City has a range of First Aid products from Safetec of America, Inc. These products include Sting Relief Spray, Triple Antibiotic Ointment, Pain Relief Spray and Roll-On, Itch Relief, Oral Pain Relief, Burn Spray and Gel, Hydrogen Peroxide Spray, and Antiseptic Cleaner Spray.
They are all readily available at the link below.