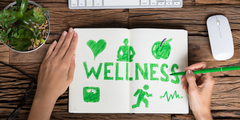 With cold and flu season is right around the corner, many people are wondering what the best preventative measures are to strengthen their immune system and prevent the spread of illness. Typically, there are a few strategies to take to defend yourself and others during these times. Ideally, you should boost your immune system and practice proper hand hygiene.
The CDC recommends that you should wash your hands multiple times a day and every time after you touch a commonly used surface. In the absence of soap and water, an alcohol-based hand sanitizer with at least 60% ethyl alcohol.
Finally, immune support is vital to keep yourself feeling well. At Nickel City, we believe natural remedies like our Herbal Respiratory Tincture and Elderberry Gummies can support your immune system. The tinctures are a combination of herbs with natural healing properties known to help you breathe better, and elderberries are known to have immune-boosting and weight loss properties.
Here at Nickel City Innovations, we believe that wellness should be delivered, and that's why we are making it easy for you to practice all steps discussed in this article. With the introduction of our Wellness Bundles, you can have a full wellness solution delivered to your door.