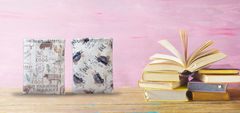 Bookoozie's protect books, iPads, E-readers, tablets, and journals while also providing a fun design that is great for anyone! A perfect gift to give to readers of all ages. Bookoozie is made from cotton fabric along with padding to make sure your books are nice and protected.
If you have never used a book sleeve before, you are probably thinking to yourself, why do I need to put my books in fabric sleeves when I travel? The simple answer is this; it protects your books from the elements in the world. Have you ever slipped your book into your backpack and had the cover (or worse, book jacket) crushed or bent? The book sleeve will prevent your covers and pages of your prized possessions from situations like this and keep them looking brand new!
A Bookoozie is also a great way to get your children to enjoy reading because if the cover is of something, they like then they will want to put it on all their books. The benefits of reading are monumental and include:
Strengthening your brain
Increasing vocabulary
Increases your ability to empathize
Helps prevent age-related cognitive decline
Prepares you for a good night's rest
Protect your books, iPads, E-readers, tablets, and journals with a Bookoozie today!