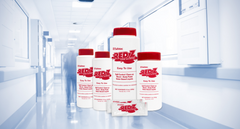 First developed by Safetec in the late 1980s, Red Z Solidifier was used to help prevent infection during the AIDS epidemic. Unexpected spills can happen anytime, anywhere, no matter what type of industry. With the use of Red Z, you can reduce the risks from improper spill cleanup, by relying on the solidifying agent to do the hard work for you.
What is Red Z?
Red Z is a superabsorbent polymer that was developed by Safetec to clean and deodorize spills safely. The combination of the polymer and Chlorine combine to produce the desired solidification and deodorization effect. The product is extremely easy to use. All you have to do is sprinkle the powder over the spill, and it will instantly begin to solidify. Additionally, Red Z is shelf-stable, meaning that as long as it is kept cool and dry, it will not expire.

Where is Red Z used?
It can be used anywhere where there are people, blood, and body fluid spills may occur. It can be used in healthcare facilities, research centers, dentists/orthodontists, mortuaries, autopsy centers, testing laboratories, blood banks, collection services, nursing homes, tattoo parlors, correctional facilities, police/fire departments, etc. In each industry, they use it in several different ways, but with one goal. To keep everyone safe from infection.

Red Z Pouches
Safetec's Red Z Drop-In Pacs are ready to use pre-measured pouches that are eco-friendly to reduce extra disposal costs that bottles require. The Drop-In Pacs from Safetec have an advanced self-dissolving technology to absorb and solidify fluid waste instantly. Containing the same effective super absorbent polymers as used in Red Z bottles, these slender pouches are now made with faster acting, innovative water-soluble paper.
The pouches help improve operating room turnover, efficiency, and safety when handling or transporting liquid medical waste with use of pre-measured solidifier Pour-In Pouches – Red Z. The pouches work great with an easy-pour angled design and are ideal for narrow openings of suction canisters.
Four Reasons to Use Red Z
It is fast-acting and easy to use - Red Z starts solidifying as soon as it is exposed to a liquid. This instant action makes spill cleanup safer.
Eliminates splashing by turning spills into semi-solid mass - splash reduction is crucial to reducing the risk of cross-contamination that could occur from hazardous spills.
Deodorizes and removes odors - odor reduction is an important part of cleaning up body fluid spills.
Cost-effective - Red Z is available in many different packaging options to fit the needs of any organization.